"The disembarkation of the troops and convicts took place from the following day until the whole were landed. The confusion that ensued will not be wondered at, when it is considered that every man stepped from the boat literally into a wood. Parties of people were every where heard and seen variously employed; some in clearing ground for the different encampments; others in pitching tents, or bringing up such stores as were more immediately wanted; and the spot which had so lately been the abode of silence and tranquillity was now changed to that of noise, clamour, and confusion: but after a time order gradually prevailed every where. As the woods were opened and the ground cleared, the various encampments were extended, and all wore the appearance of regularity…"
"They [the convicts] have no shame they talk as free as their lude acts as an ornament to their way of living… little industry indeed is to be found amongst them they are so accustomed to this high way of life that the most severe punishments will not restrain them…"
"We were eager to escape from tents, where a fold of canvas, only, interposed to check the vertic beams of the sun in summer, and the chilling blasts of the south in winter. A markee pitched, in our finest season, on an English lawn; or a transient view of those gay camps, near the metropolis, which so many remember, naturally draws forth careless and unmeaning exclamations of rapture, which attach ideas of pleasure only, to this part of a soldier's life. But an encampment amidst the rocks and wilds of a new country, aggravated by the miseries of bad diet, and incessant toil, will find few admirers."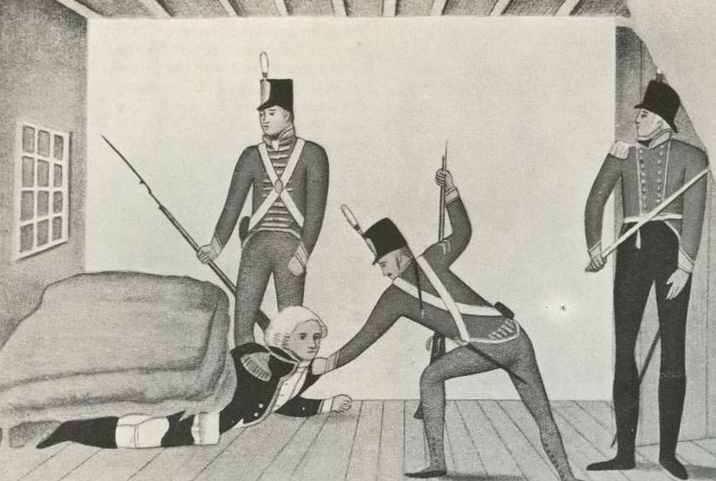 We acknowledge the traditional aboriginal owners and stewards of this country, in particular the Cadigal and Wangal of Port Jackson, peoples of the Dharug nation.
In commemoration of the 220th anniversary of the arrival of the First Fleet at Sydney Cove (and in honour of the arrival of my very own great-great-great-great-great grandfather, John Cross, transported aboard the Alexander), and the 200th anniversary of the Rum Rebellion, we at absinthe.com.au wish everyone, convict-stock or landed gentry, currency or sterling, a happy, relaxing and respectful Australia Day.
As they say, 'history resides in one's own family', so take some time today to give thanks to those to whom you are related, by blood or by industry, who have lent a hand in building the place that we today call our home.
Farewell to old England forever
Farewell to my rum culls as well
Farewell to the well known Old Bailey
Where I used for to cut such a swell
Singing Tooral liooral liaddity
Singing Tooral liooral liay
Singing Tooral liooral liaddity
And we're bound for Botany Bay
There's the captain as is our commander
There's the bosun and all the ship's crew
There's the first and the second class passengers
Knows what we poor convicts go through
Taint leaving old England we cares about
Taint cos we mis-spells what we knows
But because all we light fingered gentry
Hops around with a log on our toes
Oh had I the wings of a turtle dove
I'd soar on my pinions so high
Slap bang to the arms of my Polly love
And in her sweet presence I'd die
Now all my young Dookies and Dutchesses
Take warning from what I've to say
Mind all is your own as you toucheses
Or you'll find us in Botany Bay